Commercial & Industrial
Rupert Disposal provides commercial & industrial waste solutions for any and all types of businesses on the north coast. Our front load dumpsters range in size from 2,3,4,6, and 8 cubic yards for general waste, and 4 and 6 cubic yards for cardboard recycling. We are fully licensed and insured and provide safe, consistent and convenient waste collection since 1998.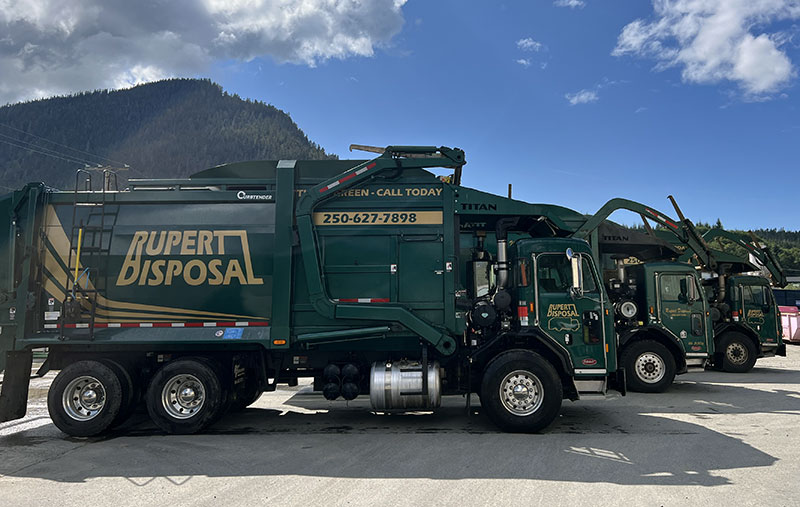 Residential Customers
If you are renovating, repairing, or just cleaning up, give us a call, we're at your disposal.
For smaller clean up projects, or homes with small driveways, Rupert Disposal can deliver our smaller front load bins to help your clean up project go smoothly. Our front load dumpsters for residential use come in 2, 4, and 6 cubic yards.
2 CUBIC YARD BIN
Approximately 14 bags
4 CUBIC YARD BIN
Approximately 28 bags
6 CUBIC YARD BIN
Approximately 42 bags

Front Load Options
Cardboard recycling
Bear proof lids
Cardboard slot
Castors (if bin needs to be movable)
Metal or plastic lids
Pad Locks
Lock bars
Front Load Containers
| CUBIC YARDS | WIDTH | HEIGHT | DEPTH |
| --- | --- | --- | --- |
| 2 YARD | 5.9' | 3.6' | 2.9' |
| 3 YARD | 5.9' | 4.3' | 3.5' |
| 4 YARD | 5.9' | 4.6' | 4.3' |
| 6 YARD | 5.9' | 5.5' | 5.7' |
| 8 YARD | 5.9' | 7.1' | 5.9' |