Rupert Disposal offers 2, 4 and 6 yard containers for residential customers. If you are renovating, repairing, or just cleaning up, give us a call, we're at your disposal.
Front end dumpsters are generally used for local businesses or small household construction jobs.
We have a maximum 2000 lbs limit on these front end dumpsters which requires that concrete, rocks or roofing materials NOT be put in them.
* SUBJECT TO AVAILABILITY *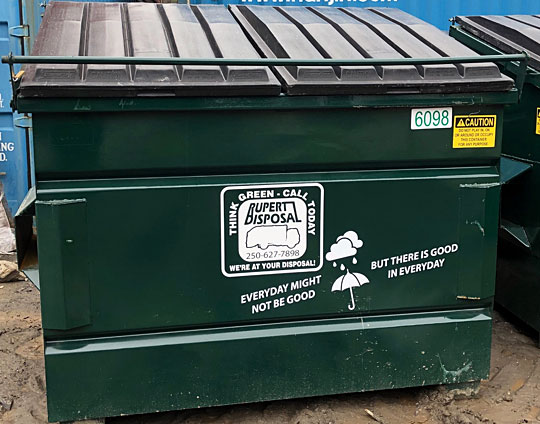 | | |
| --- | --- |
| 2 CUBIC YARD BIN | Approximately 14 bags |
| 4 CUBIC YARD BIN | Approximately 28 bags |
| 6 CUBIC YARD BIN | Approximately 42 bags |
| CUBIC YARDS | WIDTH | HEIGHT | DEPTH |
| --- | --- | --- | --- |
| 2 YARD | 5.9' | 3.6' | 2.9' |
| 3 YARD | 5.9' | 4.3' | 3.5' |
| 4 YARD | 5.9' | 4.6' | 4.3' |
| 6 YARD | 5.9' | 5.5' | 5.7' |
| 8 YARD | 5.9' | 7.1' | 5.9' |