Portable Washrooms aka Porta Potties
Rupert Disposal is the largest portable sanitation provider on the North Coast! We have a massive selection of washrooms with a variety of services to keep the units clean and free from odour, available in Prince Rupert, Terrace and Kitimat BC.
Our experienced staff will provide assistance in choosing the best unit and quantity for your event or project. We offer daily, weekly, monthly or on call cleaning services. Talk to our specialist today. We guarantee reliable service and cleanliness. Our portable toilets and restroom trailers are maintained by trained technicians and are delivered completely sanitized and odour-free.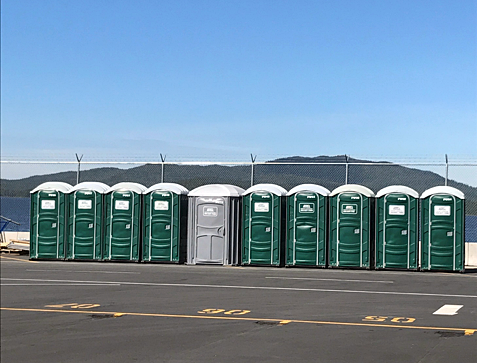 In most cases we can provide portable washrooms within 24 hours, however we highly recommend for larger events or projects booking in advance.
From individual plastic portable toilet units, to spacious portable washroom trailers, we provide a large variety of portable washrooms for commercial, residential, non- residential, industrial and special events! You can rent out portable washroom units that will make your camp or construction site easier to work in. We also provide sanitation cleaning services for our portable washrooms.